IAM member and Army Veteran Scott Lacey believes most people have the desire to support our nation's military, but don't always know how. He made it his goal to give members of his local an avenue to do just that.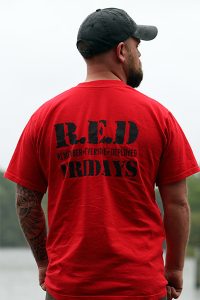 Lacey approached IAM Local 63 leadership with an idea to have T-shirts made with the proceeds going to Northwest Battle Buddies, a charitable foundation that provides U.S. combat veterans with professionally trained service dogs who help with PTSD at no charge. Following membership approval, the shirts were made and quickly became a hit, especially the "Remember Everyone Deployed" version.
"We had nearly 100 shirts sold in the first eight hours," said Lacey. "It's awesome to see people's reaction to the shirts, everybody loves them. I see a lot of people wearing red on Fridays, and not just the shirts we sold. That tells me that they made a conscious decision to remember our military when they got dressed."
Lacey, a Boeing employee, has also put together a packet to help veterans navigate the process of signing up for benefits through the Veteran Affairs Department.
"I became frustrated when I went to sign up at the V.A.," said Lacey. "There was no real guide and you just had to figure things out on your own. So I wanted make it easier for others to get through the process, they have enough things to worry about without having to stress about signing up for the benefits they earned."
That experience inspired Lacey to get more involved and that's when he came up with the idea of having T-shirts printed by the local.
"The benefits are two-fold," said Lacey. "We support veterans by raising money for a great cause, and we also raise awareness by all these people wearing the shirts around town."
"Brother Scott's work is a shining example of what it means to be a Fighting Machinist," said IAM Western Territory General Vice President Gary Allen. "I'm moved by the work he is doing, and I am proud of Local 63's service to veterans and the community."
---