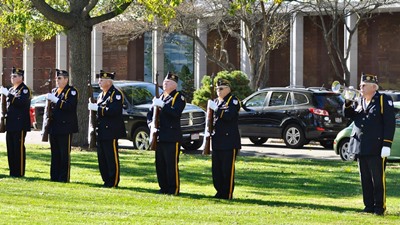 Middletown, OH Local 1943 President and Directing Business Representative Neil Douglas honored the service and sacrifice of Ohio veterans and active duty service members at a Veterans Day ceremony held at Woodside Cemetery in Middletown. The annual event is the result of a joint effort of the Veterans of Foreign Wars of the U.S. (VFW) Post 3809, American Legion Post 218, and the Middletown Veterans Memorial Committee (MVMC) Veterans Day Memorial.
Douglas, a veteran and Chairman of the  MVMC, and lifetime member of the VFW, represents IAM members employed at AK Steel, Pilot Chemical, RMB Transportation and Cummins Bridgeway.
"My service taught me what honor, sacrifice, and duty really mean, and my duty to the military men, women, and their families didn't end just because my service did," said Douglas. "I felt the bonds made and lessons I learned should be brought back to my union, community and the company I work for. Passing on these lessons is not enough. We must also give back to those that instilled these lessons, many making the ultimate sacrifice."
Each year, Douglas and Local 1943 staff and members also play an important role in the annual Veterans Memorial Scholarship golf event, which helps area veterans and their families further their education.
Local 1943 has a long history of supporting veterans that stretches back to 1914 when workers in Middletown volunteered to form the Armco Ambulance Corps, a detachment of workers supporting front line troops in World War I. Current IAM members of Local 1943 support veterans and active duty personnel with payroll donations and by raising $30,000 to build the Veterans Memorial at Woodside Cemetery in Middletown.
"On Veterans Day, we honor, and admire our Veterans," said Eastern Territory General Vice President Jimmy Conigliaro, Sr. "The freedoms we enjoy are because of what they do keeping us safe each and every day as we go to dinner, school plays and other family functions. The IAM has many veterans in our ranks, as well as in the shops we represent, and today we say thank you to each of them."
International President Bob Martinez issued a Veterans Day statement thanking the men and women of the U.S. and Canada who have served their countries through military service.
The IAM Veterans Services Department has valuable resources available to vets. Anyone interested in the Veteran Service Program please contact General Vice President Diane Babineaux's office at 301-967-4505. Feel free to pass along information and pictures of events pertaining to veteran IAM members to [email protected]. If you are an IAM military service veteran and haven't filled out a contact information sheet, please do so.
---