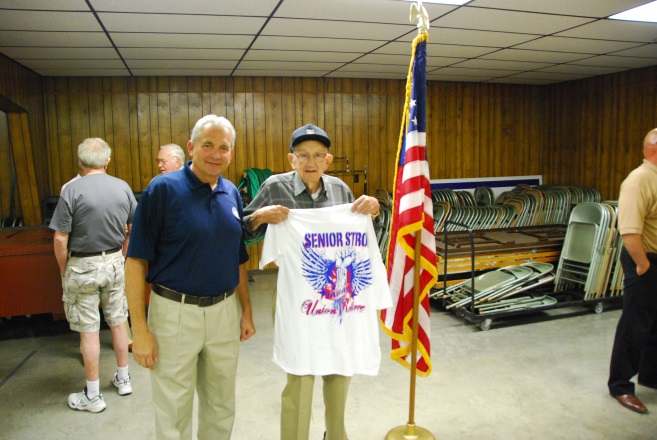 Ninety-five year-old James "Jim" Ball; US Naval Veteran and the oldest living member of IAM Local 480 in Oak Ridge, TN.
IAM Retirees, Community and Membership Services Director Edward Manhart on left.
I recently had the privilege to attend IAMAW Local Lodge 480, Retirees Club meeting. I was truly honored to meet long time member James "Jim" Ball. It was a humbling experience to say the least. I witnessed the Retirees Club recognize brother Jim for his US Naval Veteran status and for being the eldest member of LL 480 at the age of 95 years young! James Ball served in the United States Navy from 1942 to 1946.
The meeting was attended by forty-nine (49) IAM Retirees and several guest speakers. As I had conversation with Jim and others, I was also informed that he was most instrumental in organizing his shop back in 1960. That effort earned him the title of "charter member "of the former IAM Local 815 located in Cocoa, FL. When Jim changed jobs he came to work at the Y-12 Nuclear Weapons Complex in Oak Ridge, TN until retirement. Jim has remained a member of Atomic Lodge 480 for the past 56 years! He is still involved in his lodge and attends the monthly IAM Retirees Club meetings.
Please join me with a well-deserved thank you to Jim for his service to our country and dedication to our union!
---