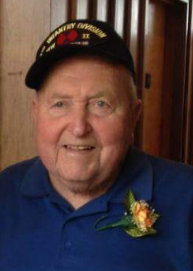 The IAM regrets to announce the death of Bob Buffenbarger, 89, a Machinists Union member since 1956 and the father of retired International President Tom Buffenbarger. Bob Buffenbarger passed away Saturday, August 6 after a short illness.
"We've lost a true journeyman and brother," said IAM International President Bob Martinez. "Bob Buffenbarger was the epitome of what a union man should be. We salute his service and love for our union, this country and his family. Our thoughts are with the Buffenbarger family during this difficult time."
Bob Buffenbarger was a life member of Cincinnati Local 912, where he served as a Shop Steward, Recording Secretary and Bargaining Committee Chairman until his retirement in 1989. He worked for 37 years at General Electric Aircraft Engine Group in Evendale, OH. A U.S. Army veteran, Bob Buffenbarger fought in the last great battle of Okinawa during World War II.
"Bob was instrumental in authoring much of the contract language that we have and will benefit from for years to come," said Local 912 President Eric Kratzer.
Online condolences to the family may be sent at HoskinsFH.com.
---